About me
The regular visitors of this website have probably been wondering last year why nothing was added to the site.
The sad reason has been that our dearest husband and father Pieter became seriously ill around February 2012 and died 21-12-2012.
We chose not to put it on the site till now, which is the right moment for us…

Of the three projects he was planning, The first Cellarius Clock, The second Cellarius Clock and the Future Project Clock,
only the first Cellarius Clock has been completed. The result can be viewed on this web site.
We, his wife and daughter know how much effort and commitent it cost him at last.
The first Cellarius Clock will be donated to the Eise Eisinga Planetarium in Franeker,The Netherlands.
There will be an exposition of his work this spring, see: Website Planetarium Franeker

His greatest joy around the site was the fact that he could advise and assist others,
was connected with fellow builders and experienced some very dear and important contacts.
Thank you all, guys, for enlightening his life.

That is why we will continue Pieter's site online, as a reference for other builders and in his memory.
Maybe, after consideration, some clocks will be for sale in the near future. For those interested: leave a message.

Mieke and Maartje, January 2014.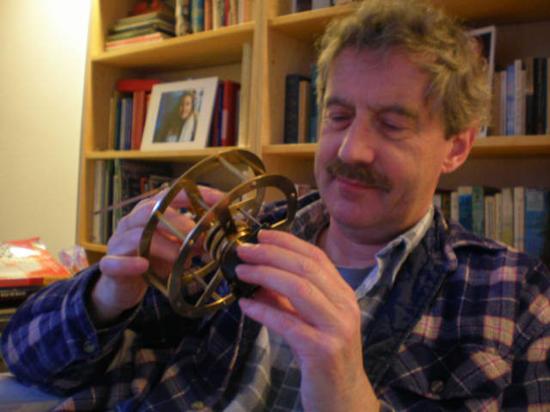 My youth was in the Northern part of the Netherlands in the beautiful city Franeker in the province Fryslan.
It was an exciting time with the first sputniks and astronauts.

At about eight I dismantled the electric clock of my parents, they where not pleased!
As young boy I was already interested in Astronomy, on dark evenings sitting behind my telescope
I made drawings of the Moon craters and the position of the moons of Jupiter.
I made my first telescope support with meccano and had wild ideas about building a radar, never worked of course.
But my own radio (Philips construction kit for children) was a great success,
said all the time, bleep bleep bleep, must have been satellites!
Later I studied at the Art Academy "Sculpture" and worked as Art Therapist.

But because of severe health problems all my life, I have very low energy and muscle strength.
Life is most of the time climbing the Himalayas!
Had to stop active life, also one of the reasons to start this hobby,
you can make small parts and after some time you end up with a working clock! (At least you hope you do)

It took many years being a complete amateur, to learn how to work with a lathe for making wheels and other parts.
In fact I made a start in making wheels from wood with nails. Later I tried to make them by hand in yellow brass (see photo).
Of course I can not work as precise like a real professional.
There are three machines an Emco 5, a Hobbymat and an older engraving machine.
I have only a limited number of Thorton cutters, so I have to smuggle sometimes a little bit.
Because there is no energy for more complicated works, I keep it as simple as possible.

I hope this site is a help and an encouragement to start building (astronomical) clocks, for it is a nice hobby.
On the Links page you will find many interesting sites with much information!
Hope you enjoyed my site, Pieter Merckx
Questions? Drop me a line!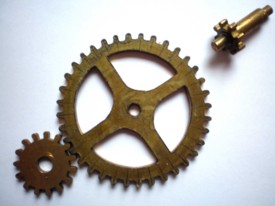 Oeps...time goes too fast!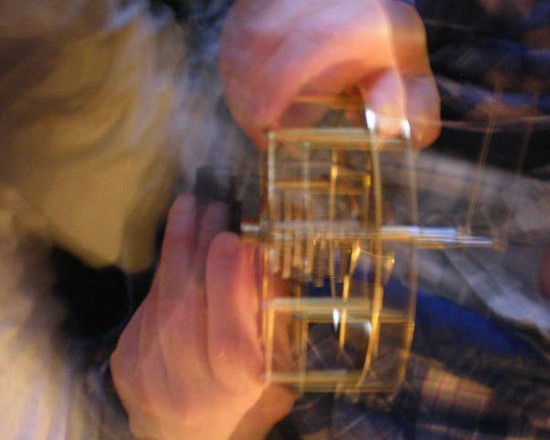 To the main page